Living the Dream: Keith's Story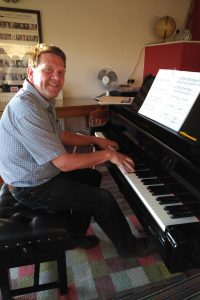 Keith started lessons with me about 5 years ago, as a total beginner. He had always loved music and came from a family of singers. His wife is also a keen musician. However, Keith had never learned to play an instrument before. He had been too occupied with a busy working and family life.
"It's been the lack of time", says Keith. "I was self-employed running my own business for 30 years………then we went to Benidorm on holiday a few years ago and there were a group of men in the hotel we were staying in. One of the guys just got up and started playing the piano one night – and I thought how fantastic it would be to be able to do that."
It was with this story that Keith came to meet me. Since then, he has come on leaps and bounds. He is an enthusiastic practiser and says that sometimes he can't wait to get home to practise. A couple of years ago Keith decided that he would like to take some exams – and he now has shiny certificates for Grades 1, 2 and 3 ABRSM Piano. But his greatest satisfaction is his new skill in being able to create music. That's not to say he has always found it easy; it is a hard won skill and we are still continuing on Keith's rewarding musical journey.
He says "My daughter's friend was recently round at our house and she was listening whilst I was playing. She suddenly said "Flippin' 'eck Keith! You can really play!""
So if you have always wanted to learn ..….it really is never too late. Or if you want to return to lessons having learnt as a child…….get in touch for a chat. Whatever your goals are I will do my best to help you achieve them and we will have a lot of fun along the way……. You could soon be "Living the Dream" like Keith!
Anne 🙂