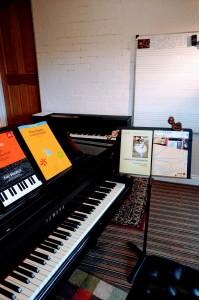 I'm getting ready to restart teaching next week and here are some of the books I will be using. It's going to be a very busy term with some new students beginning and others moving further upwards on their musical journey.
I've had a great break – a motorbike tour with my husband to the Black Forest – but now I am feeling ready for new challenges with my pupils.
Whilst I was away I received some wonderful news – a late exam result (part of a special ABRSM visit):
Heart felt congratulations to Alex Peters, who gained a distinction for his Grade 8 piano! I have taught Alex since he was a little boy, right from the start and so it is extremely satisfying for me as a teacher to see someone progress from their first steps to a high degree of musical proficiency. Alex's achievement is all the more outstanding as he also took Grade 8 organ only a couple of days later and gained a distinction for that as well (I don't teach organ by the way!) For the past year he has been the Music Scholar at Ripley St Thomas School in Lancaster but he will soon be leaving for Durham University to study engineering – and he has been awarded an organ scholarship there as well.
All the very best for what I am sure will be a successful time at university, Alex.
For his Grade 8 piano examination this was Alex's programme:
J.S. Bach: Prelude and Fugue in A minor from WTC Part 2
Beethoven: Presto Alla Tedesca, Sonata in G Op.79
Chopin: Nocturne in G Minor, Op.37 No 1
It's always interesting which pieces from the Grade 8 syllabus students choose  – I have a possible 7 pupils planning to sit Grade 8 piano in the coming academic year, so I am getting rather familiar with the current syllabus. There has been some doubling up between them in choices but also some highly individualistic decisions made (including the "crazy" Kuhlau Sonatina in C – actually I rather like it!) You will see on my music stand in the picture the beautiful Poulenc Improvisations – one of these is set and I am looking forward to teaching it.