During this difficult time for us all, I am still offering piano and violin lessons, but moving online to Skype. Please contact me for further details and help with setting-up.
For those of us having to stay at home, let's use this time wisely and productively  – this is a great time to learn an instrument! Skype lessons work really well and are a safe way to keep up your learning.
"It worked really well and certainly didn't feel like a 'second best option'"
– Gillian M. (Adult student) after her first online lesson.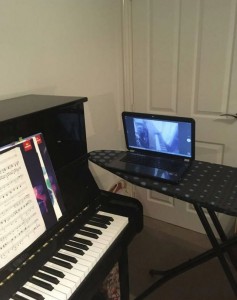 This is how to position your laptop for your Skype lesson….. Who doesn't have an ironing board? It's height adjustable, and it gives you the perfect excuse not to do the ironing! No one cares if your clothes are not ironed at the moment anyway. Stay safe and well and Play Your Piano!